Once a fisherman, the owner of Munehiro's selects the finest fish and shellfish. It is our pride and joy to get the best catch of the day in our own Munehiro power boat. And not only that—the restaurant is a member of the fish market in Yatsushiro and Amakusa, so all the more, we're able to bring you the freshest in season—straight from the sea, straight from the heart.
At times, more customers may be dining with us, but it's worth the wait!
Every ingredient we select is special!
Our mouthwatering, succulent seafood is one-of-a-kind.
We're here to serve you the finest quality…It is our pride and joy.
Savor our specialties here in Yatsushiro, here at Munehiro's.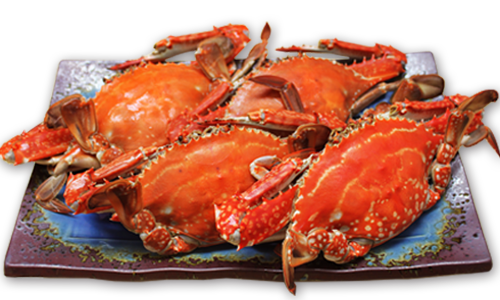 Munehiro's Specialty Blue Crabs
Blue Crabs are harvested here in Yatsushiro. Blue crabs are the most flavorful among all when they're boiled. In recent years, their abundance has fluctuated over time, so it's time to savor every bite.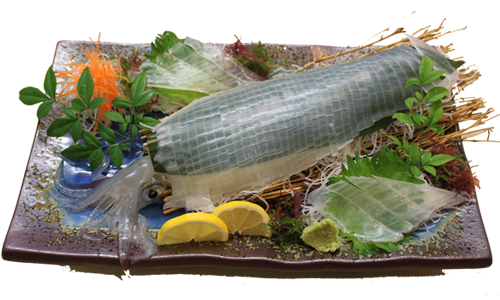 Spear Squids from Yobiko
Spear squids are brought directly from Yobiko. It's very popular regardless of age or gender. We serve them in the form of sliced sashimi ("otsukuri"), and they are sweet and tender.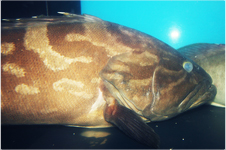 Longtooth Grouper
They're always in our restaurant's fish tank!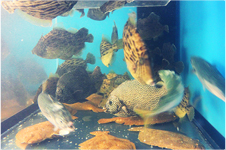 Parrot Fish, Rock Porgy, Flounder, etc
We're ready to serve you a whole lot more in season!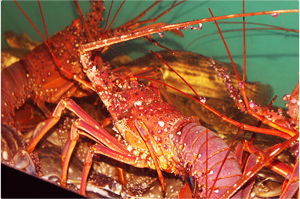 Japanese Spiny Lobster ("iseebi"), Sliced Sashimi Style
Immediately after we take your order, we prepare it "sashimi" style. Try our grilled cheese lobster, lobster miso soup, and other lobster dishes, too.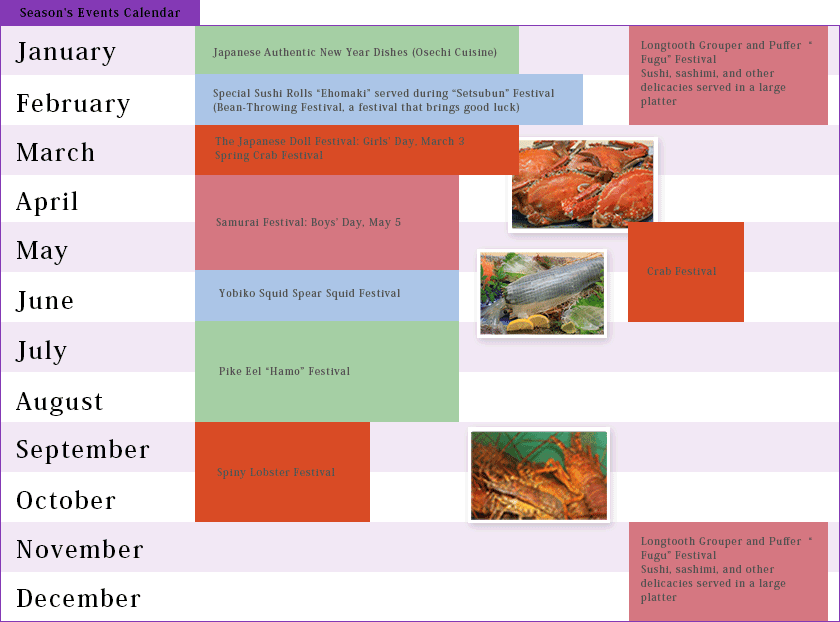 More about Crabs
Crabs are tasty January through April.
Female crabs are the most flavorful May through June.
You'll find yellowish-orange-colored crab eggs during this season.
In June, crabbing is on hold for two weeks due to spawning.
Crabbing gets quite challenging July through August.
During this season, "Obon" (Buddhist Bon Festival), a time for family gatherings in honor of their ancestors, also takes place, so prices may go up.
Male crabs taste great from October and on.
Female crabs are tasty once again from December and on.
Most crabs are flavorful November through December.
Banquets & Special Dining (includes family gatherings after Buddhist services)